Narrowing the widening skills gap within emerging technology.
CierraTEC now offers EMERGING TECH COURSES as an authorized training partner with CertNexus
(1) Full Day or (4) Tuesday 2-Hour Sessions
Data Ethics for Business Professionals (DEBIZ ™)
The power of extracting value from data utilizing Artificial Intelligence, Data Science and Machine Learning exposes the learning differences between humans and machines. Humans can apply ethical principles throughout the decision-making process to avoid discrimination, societal harm, and marginalization to maintain and even enhance acceptable norms. Machines make decisions autonomously. So how do we apply ethical principles to data driven technology? This course provides business professionals and consumers of technology core concepts of ethical principles, how they can be applied to emerging data driven technologies and the impact to an organization which ignores ethical use of technology.
This course includes an exam voucher.
Half-day Class Session
AI for Business Professionals (AIBIZ™)
In the past, popular thought treated artificial intelligence (AI) as if it were the domain of science fiction or some far-flung future. In the last few years, however, AI has been given new life. The business world has especially given it renewed interest. However, AI is not just another technology or process for the business to consider—it is a truly disruptive force, one that promises to deliver an entirely new level of results for all aspects of the business. Even organizations that resist adopting AI will feel its impact. If the organization wants to thrive and survive in this transforming business landscape, it will need to harness the power of AI.
Despite its promises, AI can seem like a daunting concept for business professionals. How can you hope to apply AI to your own business if you can't see beyond the vague buzzwords and hype? That's why this course was created: to give you the essential knowledge of AI you'll need to steer the business forward.
This course includes an exam voucher.

* e-learning option also available
Half-day Class Session
Data Science for Business Professionals (DSBIZ ™)
The ability to identify and respond to changing trends is a hallmark of a successful business. Whether those trends are related to customers and sales, or to regulatory and industry standards, businesses are wise to keep track of the variables that can affect the bottom line. In today's business landscape, data comes from numerous sources and in diverse forms. By leveraging data science concepts and technologies, businesses can mold all of that raw data into information that facilitates decisions to improve and expand the success of the business.
This course includes an exam voucher.

* e-learning option also available
Half-day Class Session
IoT for Business Professionals (IoTBIZ™)
The Internet of Things (IoT) allows organization to collect an extraordinary volume of data and new analysis tools can enable you to use this data to make well-informed decisions to be made quickly. But before you can successfully plan and implement an IoT solution, you must understand the various factors that will drive your decisions. Putting IoT systems into place can be a complicated proposition with unique considerations distinctly different from traditional IT solutions. This course will familiarize you with IoT components, understand the challenges that you may face, and make design decisions about your IoT projects. This course prepares students for taking the CertNexus® IoTBIZ Credential (IOZ-110).
This course includes an exam voucher.

* e-learning option also available
As a CertNexus Authorized Training Partner, CierraTEC offers rich and engaging courses that align to the CertNexus vendor-neutral certifications in emerging technologies, preparing you for the demands of your organization and helping you bridge critical skills gaps. Propel your career forward by taking these courses and passing the associated exams to earn these top certifications in Cybersecurity, Internet of Things, Artificial Intelligence and Data Science.

Why Certify?
The value of certifications and micro-credentials to companies and individuals are increasing as the pace of technology quickens. Certifications help employers identify prospective new hires, evaluate job performance, and invest in staff by directing professional development opportunities.
For an individual, it provides assurance that they have the competency to be successful with the latest technologies, demonstrates that they are committed to their profession, and assists in receiving coveted projects.
For organizations can now ensure that business leaders and project managers have the necessary knowledge to lead projects and make informed decisions. Whether providing introductory information, a deeper dive in a specialized area, or compliance training, micro-credentials are right-sized for the need – validating focused knowledge.

Why CertNexus?


CertNexus understands that the success of an organization depends upon all its people. They've built certifications and micro-credentials for your entire staff encompassing three essential concepts: THINK. BUILD. SECURE.
THINK: empower decision makers, executives, and project managers to lead, design, and put emerging technology into practice
BUILD: expand IT and development professionals' skills to create and implement innovative solutions
SECURE: extend IT and cybersecurity professionals' competencies to protect your investments
Certification Road Map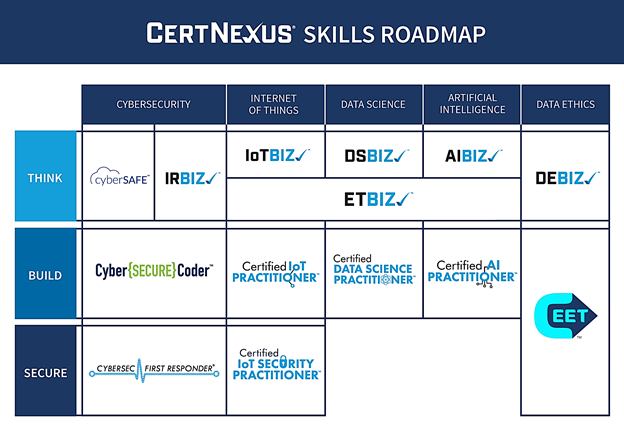 Not sure which CertNexus training is for you? Take a look at the possible learning paths as well as a summary of each course offered below.
CyberSAFE

This course is designed for you as a non-technical end-user of computers, mobile devices, networks, and the Internet, to enable you to use technology more securely to minimize digital risks.
Data Ethics for Business Professionals (DEBIZ)
This course is designed for individuals who are seeking to demonstrate an understanding of ethical uses of data in business settings.


CyberSec First Responder® (CFR)
This course is designed for cybersecurity practitioners preparing for or who currently perform job functions related to protecting information systems.


Internet of Things Business (IoTBIZ)
This course is designed for Non-technical business professionals in project management, marketing, and sales who are seeking to grow their organization through IoT technology solutions.
Certified Artificial Intelligence Practitioner™ (CAIP)
This course is ideal if you are a practitioner seeking to demonstrate a cross-industry skillset within AI and ML.



Start your training today!
Back to Top
Contact CierraTEC for a
Free Readiness Assessment
We are here to Help!
Black Friday offer is now available!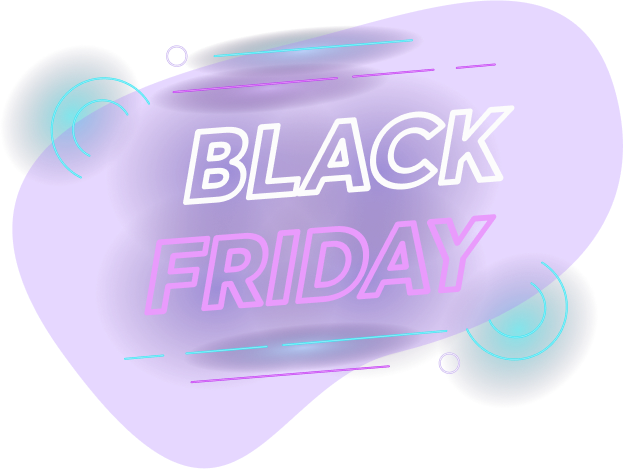 Our Black Friday offer is now available for you!
Get 50% off for all our products

Access to premium resources

Limited-time only, so hurry up!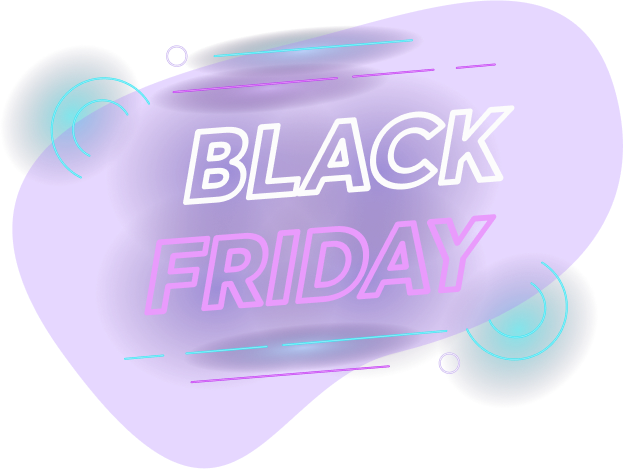 Limited-time Black Friday offer is now available!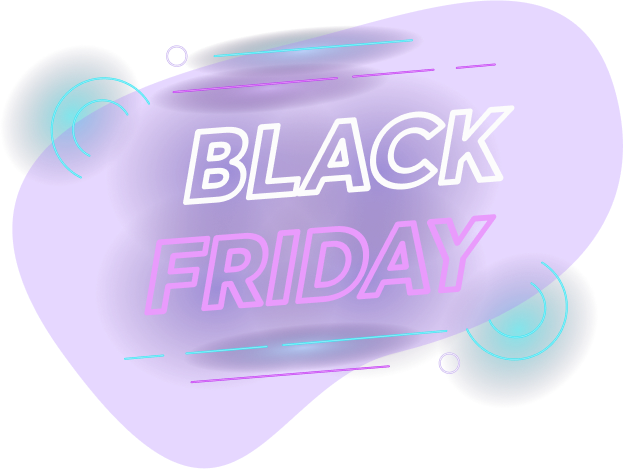 The Ultimate Distance Learning Program is here!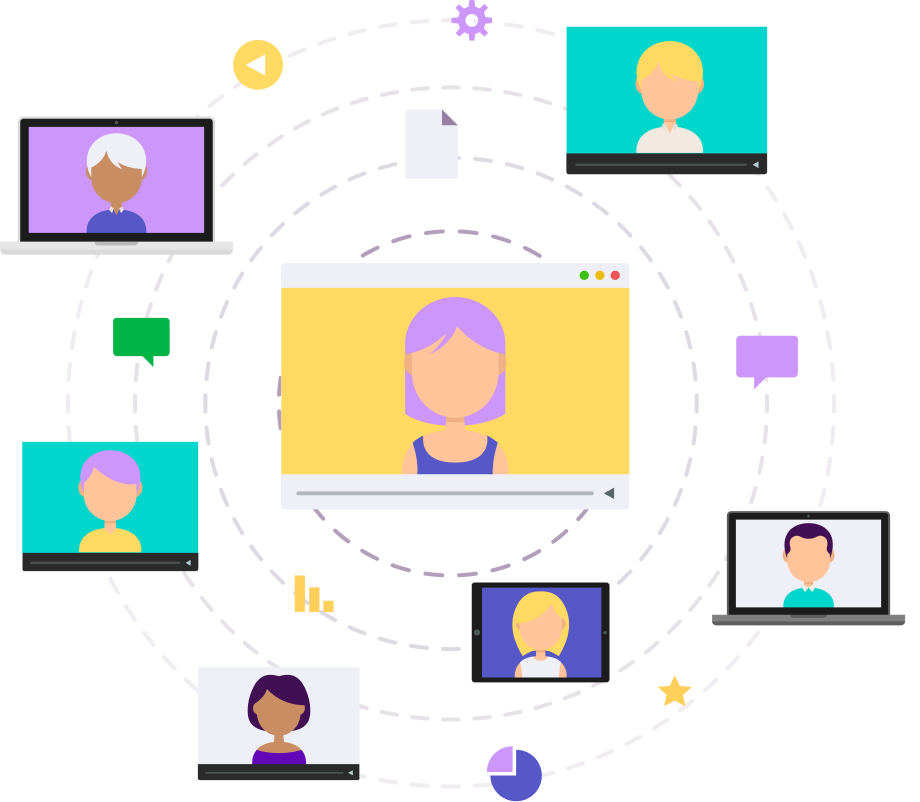 Created with